Beginner's Guide: What is Parlay Betting?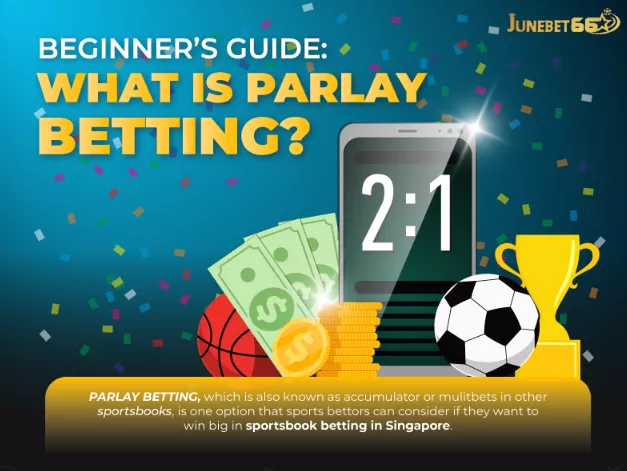 Parlay betting, which is also known as accumulator or mulitbets in other sportsbooks, is one option that sports bettors can consider if they want to win big in sportsbook betting in Singapore. Some of the best betting markets for parlay bets include the 1×2, Both Teams to Score (BTTS), and Over/Under 2.5 Goals betting markets. The odds for these betting markets are usually short odds. 

Additionally, the results in these betting markets are typically easy enough to guess even through looking at the odds. Using these betting markets in parlays can lead to bigger wins when betting on these markets individually. Basically, beginner-friendly markets are some of the best markets to use when using parlays due to their low odds.
What Is Parlay Betting?
In simple terms, a parlay bet is a single bet on three or more unrelated sports events, and each of those events are referred to as a leg of the bet. Sports bettors can look forward to an increase in potential winnings as multiple bets are combined into one wager.  
To win parlay bets, you must win each wager in a leg. Parlay bets are flexible, which appeals to many gamblers as it allows them to combine and group several short odds bets in multiple sports into one with the potential to win big. You win if all the teams you have placed a bet on have won the sports event, but one lost bet in parlay means that your entire parlay bet loses as well. This makes parlay bets quite tricky and challenging, especially as they involve many individual bets.
The odds of winning a parlay bet are mainly determined by the combined odds of the individual bets. Sports have dynamic odds, or there are no two bets with the same 50/50 odds. Calculating the sports betting odds in parlay betting is simple. When using decimal odds, a bettor needs to multiply the odds and then multiply it with the stake or the bet.
How Do Parlay Bets Work?
Parlay bets have a higher payout compared to single bets because the odds stack per wager. It also means that every game that is added to a parlay increases the potential payout if all the bets in the parlay are won. 
One of the most important things to remember about parlay betting is the gap you are getting, and the true odds of the bet become wider with each added selection, which is one of the biggest reasons bettors need to shop for the best possible odds in the sportsbooks. 
When to Bet on Parlays?
When it comes to parlay betting, one must consider each sports event on whether each bet has a high chance of winning. Parlays can end badly with only one lost bet. Making parlay bets in situations where you feel strongly about the individual plays is recommended based on available statistics that can guide in making decisions in betting. Many betting options are available these days, and parlay bettors have a better chance of finding real value and strong bets if they do their research.
In parlay betting, bettors cannot continue placing parlay bets after losing or winning. When betting on parlays, bettors should avoid hard-to-win betting markets, frequent random bets with no thorough research, and frequently betting on long legs where chances of winning big are usually low. You can still get lucky and possibly win big from long-leg parlays and random bets but one should not rely solely on them for big wins in parlay betting.
Advantages of Parlay Betting
Similar to other betting types, parlay bets have its advantages and disadvantages such as the following: 
Bigger Potential Profit
The main advantage of parlay betting is the possibility of bigger winnings through betting on multiple sports events in one bet. With parlay betting, it is possible to achieve life-changing wins such as Steve Whiteley's £1,445,671.71 parlay win in horse racing in March 2011. Whiteley placed six bets on a free promotion and ended up winning the biggest parlay win in horse race betting.
More Exciting
Another advantage of parlay betting is the excitement. Seeing the first leg of a parlay bet winning is always satisfying, and a bettors involvement increases a notch as more bets are placed for parlays. As sports betting is as much about the excitement and entertainment as potential profit, the level of excitement in parlay betting makes it appealing for many sports bettors.
Disadvantages of Parlay Betting
Parlay betting is also known as a risky style of betting even though there are bigger potential winnings through combining multiple bets in a single wager. The following are some of the disadvantages of parlay betting, especially for rookie bettors that they have not learned yet in the world of parlays.
Bigger Risks
Among the most obvious and biggest disadvantages of parlay betting is that it has more chances of losing compared to a single bet. This is because each leg of the parlay needs to succeed and win for the parlay bet to win as a whole.
Fixed Odds are Never in the Bettor's Favour
In parlay betting, the sportsbook has a significant edge on parlays. There are detailed calculations on the odds, and it is generally considered that adding more than three bets in a parlay is a bad choice for bettors.
Conclusion
Parlay betting allows sports bettors to stack the odds and increase their potential winnings easily. While it can be hard to win at times because one loss usually results in the loss of the entire bet, a parlay bet is still a good option for those who want to have a chance of winning big, even with low stakes.
Those who want to try their luck at sports betting can visit Junebet to start their journey in online sports betting in Singapore. Junebet66 offers bonuses and a highly attractive user interface for a comfortable betting experience. Junebet66 also provides highly flexible, fast, and credible payment methods where you can pull back your winnings without worrying about any rules.
Read More: